Luxury Mother's Day Gift Guide 2022
Celebrate that special lady in your life this Mother's Day with a gift from our high-end guide. Whether you are looking for a special fizz, the must-try gin, gifts for that coffee lover in your life, best of beauty or home fragrance gifts, you'll find it all here. Say goodbye to average gifts and hello to something special!
Ridgeview Bloomsbury NV (£28.99)
Fresh, vibrant and opulent in taste, we'd recommend you consider raising a glass of Ridgeview's Bloomsbury NV English sparkling wine this Mother's Day.
Ridgeview, set in the idyllic South Downs, have been producing award-winning English sparkling wine for over 25 years. Very much a front runner and leader in the sparkling wine space, they have a lot of experience in creating wonderful fizz.
This signature blend of Chardonnay, Pinot Noir and Pino Meunier, is light in colour with a persistent, fine mousse. Honey hints and citrus aromas give each drop a sense of Spring. It's worth noting that this sparkling wine was selected and served for the Queen's Diamond Jubilee, impressive stuff! A lovely aperitif and also perfectly suited to fresh, simple shellfish dishes.
Available from: Waitrose, Costco, Fenwick, Harvey Nichols
Transformulas Marine Queen Gift Set (£65, RRP £129)
The perfect skincare bundle fit for a Queen. Dive into the Transformulas award-winning collection of skincare rich in vitamin C & E and infused with marine ingredients that completely revitalises skin.
The stunning Marine Miracle Creme boosts collagen, moisture, firms skin as well as minimises lines and wrinkles. The result? Your skin is visibly smoother and plumper in 30 days of use. Working together with the sea-sourced energy of the super concentrated, ultra-light serum-cream ingredients of Marine Miracle Eyezone, that improves cell rejuvenation in the eye area for long-lasting anti-ageing and anti-fatigue results helping to look and feel like royalty. Presented in a beautiful environmentally clear cosmetic case with Faux leather nude trim and a dust bag that keeps all your fav's dust free and neat. Order yours here.
Transformulas Mama Glow Gift Set (£65, RRP £151)
This sassy skincare trio includes two award winning products from Transformulas. Radiance restorer and luminosity boosting, intelligent Flawless PhotoGlow SPF 30+ is your daily protector against UV rays. Transformulas also promise 100% skin glow increase in just 2 weeks, quite a claim! Continuing the set is the newly Award-Winning energising silky serum of Flawless EyeWakeup that lovingly absorbs into the skin to deeply hydrate, decongest and depuff eyes.
Lastly, the fast action Flawless EyeRetouch aims to instantly reduces fine-lines and dark circles as an on-the-go skincare make-up hybrid. This Mama Glow gift comes presented to you in their world conscious environmentally friendly Transformulas clear Eva cosmetic case. Practical and stylish in equal measure, allows you to see your favourites at first glance and with a drawstring dust bag that acts as a second skin. It is your perfect companion, which easily slots into your handbag to keep all your favourites close and clean. Order yours here.
Noble Isle Rhubarb Rhubarb! Single Wick Candle (£40)
As you'd guess from the name the Rhubarb Rhubarb! single wick candle is a luxurious ode to beautifully British rhubarb.
One of the keys to the crispness and freshness candle fragrance is the rhubarb itself. In this case, this dazzlingly pink product, heralds from the epicentre of UK rhubarb growing, the Yorkshire Triangle. Expect a gentle release of bittersweet Rhubarb, Juniper Berry and muddled Rosemary. A joyous combination, super crisp and one of a kind.
Hand crafted here in the UK, they have an estimated burning time of 35-45 hours, giving you many a relaxing Spring day experiencing this entrancing fragrance. These superb candles are made with a mineral blend wax containing natural and paraffin waxes and lead-free wicks, all ensuring no nasties too. Find out more here or read our full Noble Isle feature.
Personalised Elephant Gin (£36.90)
Elephant Gin is an award-winning gin delivering stunning flavours and an aesthetically beautiful look & feel. A recent winner of the Taste Master at The Spirits Business' Gin Masters Awards 2021 and with an array of gin accolades behind them, Elephant Gin is sure to wow this Mother's Day.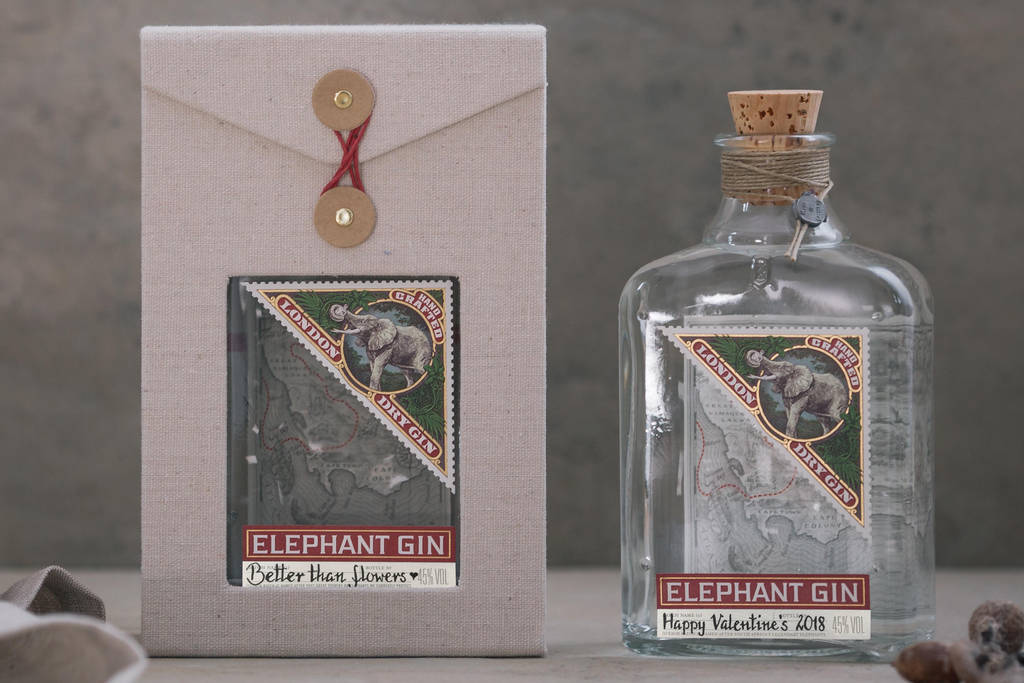 Ideal for Mother's Day, Elephant Gin offers their gins with a personal message, a gift that both tastes great and is one of a kind, plus 15% of the profit from each bottle also gives back to foundations that work to protect African elephants. What is not to love?
The gift set is lovingly packaged in a high-quality and recyclable linen box. Then simply select a 500ml bottle of Elephant Gin to match your Mother's taste. The range includes London Dry, Sloe, Navy Strength or Orange Cocoa, so there really is an option for everyone.
Taste wise, expect a journey through sun-soaked African vistas, driven by a range of African botanicals, pure spring water and fresh apples. The result is a memorable gin with a pleasant, yet not overwhelming floral nature, hints of pine and earthy spice, completed by orange peel and ginger.
A beautiful looking and delicious tasting gift with the added benefit of raising money for a worthwhile cause. Elephant Gin's personalised gifting sets are available from www.elephant-gin.com.
Conker Port Barrel Aged Gin (£50)
Another elegant gin, Conker Port Barrel Aged Gin is a premium pink gin with real class. Conker Spirit have become renowned for sublime gins in recent years, racking up awards internationally in the process, and rightly so! This particular signature Dorset Dry gin comes with a lofty £50 price tag, placing it at the higher-end of gin price lists, but is it worth it? Absolutely!
Rested for 8 weeks in used Port barrels from Portugal, this gin takes on a spell-binding fruity and complex flavour profile. Over the 8 weeks the 5-year old port is extracted from the barrel wall, lending the gin its distinct flavour and ruby pink look. They have managed to perfectly marry super dry juniper with touches of vanilla oak, warm spice and sweet red fruits. Inside this gin, aside from the Dorset Coast botanicals, New Forest Spring water lends it a smoothness. Also, it's worth noting that only British wheat is used in the process! The resulting gin is a wonderful exhibition of British craft and ingredients.
This gin deserves nothing less than to be sipped over a few big chunks of ice in your favourite tumbler. Add tonic to that equation and you have one of the tastiest G&Ts we've ever encountered.
Combine 50ml Port Barrel Gin, 200ml classic Indian tonic water and Grapefruit or orange peel for the perfect serve.
Conker Spirit gins are available from their website or Tesco, M&S, Waitrose, Ocado, Masters of Malt, Whisky Exchange, The Gin Foundry,  Amazon and more.
Darnley's Original Gin (from £28 for 70cl)
For those Mum's with a sustainable eye (and who just love high quality gin), Darnley's Gin has launched recyclable gin pouches, a unique and different gift for any gin-lover!
These stylish gin pouches are available in 70cl for each of the Darnley's Gin Original, Spiced Gin & Navy Strength products. Simply twist the cap and use the narrow spout to top-up your Darnley's 70cl bottle. Giving you the same great taste but with far less waste and a reduced carbon footprint (50% less weight than a glass bottle delivery)!
Darnley's Gin is created in a village just outside Fife and it uses only the finest, natural ingredients, beautiful botanicals and the purest Scottish water. Their natural only approach means nothing artificial, no colourings and only authentic flavours. Just outside their distillery hand-picked and hand-grown ingredients can be found growing in the Darnley's Cottage garden. Their Original gin is in the London Dry style, giving a taste of grapefruit and juniper, with elderflowers notes, amongst others, on the nose. Light and citrussy, ideal for a Spring evening! They also do a series of gorgeous gift sets, as shown below (around £44 for the set):
Pouches start from £28 with full-sized bottles starting at £32. All available via their website at www.darnleysgin.com.
Artisan Coffee Co. The Heroine 'On The Go' (£29.99) and Nespresso® Compatible Pod Taster Pack (£33)
Nothing kickstarts a day better than a high-quality cup of coffee! The Artisan Coffee Co. have a superb selection of coffee related gifts for those who dabble in coffee to the coffee aficionados!
We are particular fans of their gift collections and their range of delicious Nespresso compatible pods! Here's why…
The Heroine 'On The Go' collection has been created for the modern, always on the move individual.
One of their signature 100% natural Arabica speciality coffees, The Heroine (one of a range of flavours), combines rich chocolate notes with hints of hazelnut, elevating the experience with a subtle flavour profile. The set comes complete with 20 coffee bags, each individually packed and sealed for freshness of taste and aroma. Simply tear open, pour over hot water and enjoy. The handy KeepCup included is perfectly formed in size and has an ergonomic feel for the hand, making it our new morning companion when on the go.
But that's not all… One of the greatest tricks up the sleeve of this coffee brand is their slick, smart and delectable "chocolate flights". Chocolate flights, much-like wine flights in a restaurant, are hand-picked chocolate treats to match the flavour profile of your chosen coffee. A stunning idea and one that really creates a lavish experience. You simply have to give it a go for yourself!
Nespresso fans rejoice too, thanks to the  Compatible Pod Taster Pack priced at £33. The taster pack features 6 coffee blends and paired chocolates, giving you an enticing and exciting opportunity to explore the Artisan Coffee Co. range.
100% natural Arabica coffee, 100% home-recyclable and 100% scrumptious, each flavour profile just works. A neat trick we didn't expect is that these pods are designed to improve upon the delivery of your Nespresso system. In fact, the Artisan pods have been designed to flow more slowly than Nespresso pods to capture maximum aroma and enhanced character in every cup. The result really works, drawing out a little more oomph from each pod than your everyday Nespresso pod.
Highly recommended, grab a gift from the Artisan Coffee Co. here.
MOM Gin limited-edition 3 pack mini gift set
For those who want a little bit of fun with their gin gifting this Mother's Day, the MOM Gin trio gift pack may be an option! Not quite of the sophistication or craft showcased with the other gins in the guide, yet oodles of fun nonetheless!
The colourful new MOM Gin limited-edition 3 pack mini gift set features 5cl bottle of each of these flavours:
Firstly, MOM Rocks (Yellow), a decent London dry style gin with a citrus edge, serve with a slice of lime and dash of pepper. MOM (Black) is a fun gin with vibrant berry flavour and has undergone four distillations, giving it a smooth profile. Lastly, MOM Love (Pink), is a pink gin infused with strawberries during its three distillations (37.5% abv). Get yours here.
Disclosure: For this blog post we were able to gain access to a sample product or service.
To see our full Disclosure Policy please click here.