Top 10 Luxury Baby Products Spring 2022
Spring brings with it a sense of rejuvenation, freshness and vibrancy. For some, it also brings bouncing babies and range of new parenting challenges to get to grips with. We've scoured the market for the latest in high-end baby products for Spring 2022, including luxury lounge sets, smart technology, our favourite baby carrier, soothing devices and much more!
Happiest Baby Everyday Lounge Set (£149)
During late pregnancy or following pregnancy, comfort around the home can be challenging and you have to adapt your in-home wardrobe to help combat those moments of discomfort. The Everyday Lounge Set from Happiest Baby offers ultra-soft, breathable materials, supreme levels of comfort and a range of design elements perfect for nursing and for 24-hour well-being.
Why are they so comfortable? Key features of this two-piece set (robe and bottoms0 include a generous 5cm elasticated waistband giving a flexible fit as tummy adapts throughout and after pregnancy. But that's not all, the design features a tapered half-moon hem, side slits and wide-leg bottoms, each allowing for further adaptability and comfort as you change. They are also cleverly designed for feeding with a discreet button placket for easy access, a nicely deployed touch! Stylish, as well as practical, this set allows mums-to-be and new mums to take away just a few of take on everyday in comfort.
The buttery soft fabric is body and planet friendly, made up of 51% Tencel (made from earth-friendly cellulose), 41% recycled polyester and elastane for stretchiness. Fully Machine-washable (cold, gentle cycle), with the option to tumble dry low, low iron if needed. Colour options include a gorgeous Slate (a muted blue-grey) and a striking Night (a true black). Grab yours here.
BabyBjörn Harmony Carrier (£190)
For the ultimate in baby carrier, ergonomic and smart material technology, the BabyBjörn Harmony Carrier cannot be beaten.
This beautifully crafted and aesthetically stunning carrier has a soft-structure, 3D mesh and ergonomic design. Crafted and engineered for the busy modern parent, it is outstandingly comfortable. For those long walks the pressure-relieving waist belt and ample back support gives you freedom from aches and strains. It's lightweight and, thanks to it being easy to pack away, great for those on the move. Unparalleled in comfort for both parent and baby.
The carrier is adaptable with head support for three different positions, allowing it to be tailored for your little one, giving them back and neck support. Plus, you can use the carrier to have baby face you, face forward or on your back (dependent on age)
Baby Carrier Harmony is suitable for newborns (minimum of 3.2kg) and can be adapted for children up to the age of 3 years old (maximum weight of 15kg).
Read our full review here or order yours here.
Cocoon Baby Blanket (£34.99)
If you are looking to enjoy trips or long-evening walks with your little one, the Cococoon Baby Blanket is a superb choice to keep baby warm, cosy and wrapped up when temperatures drop.
Gorgeously soft, fleece lined and cleverly designed, these baby blankets are ideal for parents on the go. Designed to fit neatly into your car-seat, pushchair, pram or carry cots, the Cocoon Baby Blankets have holes built into the fabric, allowing you to feed straps through the blanket (made of machine washable materials), ensuring a snug fit to the carrying device and ensuring no gaps to let cold air in to reach baby. The result is a warm, practical and super soft experience for your little one. It's worth noting that the blankets have been fully crash tested and are in compliance with all legal regulations, giving you peace of mind.
The blanket has been crash safety tested and is proven to provide added protection for your baby's head and chest whilst in the car seat, giving you 100% peace of mind when purchasing. Their 0 – 6 month blankets fit all 3 point harnesses and all 5 point harnesses with detachable straps.
Find out more here.
CHICCO RHYTHM N SOUND (£99)
Newborns can be tricky customers when it comes to keeping them relaxed or entertained, whilst getting those house jobs done. Seeking a one-stop option for daytime comfort, relaxation, entertainment and stimulation for little one? Introducing the Rhythm n Sound glider from Chicco.
This modern and sleek baby glider seat is suitable for little ones aged from 0-6 months and it's packed full of features. The device features a reclining backrest (with two positions) and bouncer, this combines with a gentle, side-to-side, gliding movement which can be turned on at the switch of a button. Simple, on first glance, in its execution, the seat is aiming to replicate the gentle cradling of parents and it does so superbly. Tranquility and calmness reign supreme in minutes.
To enhance the effect of the motion, the Rhythm n Sound also comes with 12 in-built melodies, each designed to soothe, entertain and further relax little one. Smart design allows you to both adjust the volume and set a timer with minimal effort.
Practically it also excels, with a super-light design and slim profile for both portability and storage. Easily allowing you to pop it in the car, behind the sofa or in that already busy airing cupboard. Available in Cool Grey and Moon Grey.
Find out more here.
ClevaPure authentic Himalayan Salt Lamp, Humidifier & Nightlight (£64.99)
Top of any nursery shopping list is has to be a baby-friendly lamp. Ideally one with soft, low-light to ensure for a relaxing environment. However, the ClevaPure Light from ClevaMama has a few more tricks up its sleeve than the average lamp!
This award-winning device is both a Himalayan salt lamp and humidifier rolled into one! The salt lamp provides a warm, comforting amber glow and emits sleep-assisting properties, giving your little one a truly relaxing experience. The humidifier is also a superb addition, as it allows you to pump out a small amount of air with a cool mist, easing congestion, sore throats and respiratory performance while your baby sleeps. Clever design means you can convert the humidifier into an aromatherapy diffuser, simply add a few drops of essential oils (such as lavender) to the water well for a pleasant, gentle flow of mist.
One thing we also noticed is that the device is super quiet, making it ideal for a tranquil and peaceful nursery. Built in 6 hour, 12 hour and auto-stop settings give you control over the longevity of usage. Three adjustable settings for light and mist give you flexibility to help achieve comfort for your little one.
Versatile, practical and easy to use. Get yours here.
SNOObear® 3-in-1 White Noise Lovey (£59.95)
Keep your little one soothed and entertained with the smartest bear on the block, SNOObear! The brain-child of Dr. Harvey Karp, paediatrician and white noise specialist, this adorable bear is the perfect baby companion.
SNOObear comes in either plush or woolly, either of which are superbly soft and sensory sensations for your little one. Packed with a trio of neat tricks they are a must-have for any newborn.
Responsive white noise ensures that SNOObear is on-hand for any of those difficult moment. Simply engage response mode ensures that SNOObear is activated by baby movement or late-night wriggling, dishing out some soothing white noise to calm them.
SNOObear is also playful, thanks to a variation of sounds, which allows for both entertainment and soothing. In fact, SNOObear plays the award-winning SNOO sounds, a series of calming and fun baby friendly noises. Plus, you can also trigger a special collection of relaxing rhythms for 30 or 60 minutes. SNOObear is smarter than the average bear. After playing sounds for a set time, it "stays awake" listening to your little one for signs of activity. If triggered then music will start again to keep your little one busy.
SNOObear is also supremely practical too, thanks to a smart travel strap which can be used to attached to baby's pram or to the side of a cot. The removable white noise speaker box allows for easy washing, a nice touch!
Super soft and just the right size to be carried, SNOObear is more than just an audio calming device, it also acts a comforter, ideal for giving baby security and reassurance. Slick technology, smart features and a gorgeous look made this a big hit in this household!
Grab a Snoobear here.
Etta Loves Sensory Strips (£26) and Sensory Muslin (£28)
Etta Loves have created a gorgeous and practical range of products for babies of 0-5+ months. The secret to their design is a focus on luxurious baby products which deliver cognitive development for little one. We are big fans!
Etta Loves Sensory Strips have been carefully designed to provide stimulation and the upmost comfort for little one. Ideal for the pram or tummy time, these reversible strips trigger and stimulate development of baby. Sumptuously soft organic cotton and padded, each strip has been developed alongside an orthoptist consultant to ensure they support babies needs and cognitive development. The result is a reversible fern design for newborn- 4 month babies and a sycamore print for 5+ months, giving your little one the crucial development stimulation at key developmental stages.
Muslins are a staple of every parenting shopping list but it can be tricky to narrow down which are the best ones to go for. This two-pack of mid-sized sensory muslin squares once again combine super soft materials with cognitive development benefits for your little one. The two designs, much like the sensory strips, are suitable for two different developmental stages. Again, more than just superb materials, they are smart too. Ideal for feeding, play, cuddles, spillages, as a lightweight blanket, breastfeeding cover or to put over a playmat to encourage tummy time. As with all Etta Loves products we've tried, they are wonderfully soft, crafted with care and uniquely designed with your baby's mental development at the forefront of the brand ethos. What is not to love?
Grab yours here.
LIFX Nightvision (£59.99)
Do you have a camera ready to watch over baby or is your camera not quite cutting it in low-light? The LIFX Nightvision is a voice-controlled smart buld with a handy upgrade for those who are experiencing light and clarity issues.
Nightvision emits Infrared, completely invisible to the naked eye, this provides your night-time camera with an illuminating effect. The result is a big boost to what you can see in the dark with your existing home camera. This is absolutely ideal for getting a super clear of image of baby when using a camera system, giving you added piece of mind.
But that's not all, thanks to the in-built voice control technology, you can hook the bulb up to your Alexa (or voice assistant of choice), giving you the ability to control it without moving a muscle. This means you can turn on your device on or off, dim it, change the colour and mood with your voice, leaving you hands-free for baby!
Find out more here.
Recaro Salia Elite Car Seat (£499)
Introducing a world first from RECARO, Salia Elite is an innovative car seat and carrier designed to keep little ones safe and protected from birth to four years (40 – 105cm).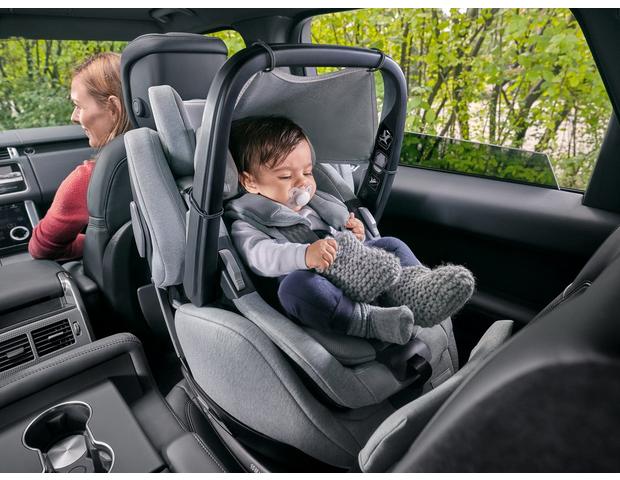 The 2-in-1 solution, suitable for Group 0+/1, provides parents with a practical car seat as well as a lightweight carrier, weighing just 2.9kg, that can be easily removed for a smooth transition from the car into the home, or used with compatible RECARO strollers.
Offering safety and comfort, Salia Elite is ideal for little ones up to 18kg and boasts impressive design features to make it as simple and secure as possible.
Order yours here.
LOLA&LYKKE®SMART ELECTRIC BREAST PUMP (£125)
Wireless, lightweight, and compact, the Lola&Lykke Smart Electric Breast Pump comes with a 2-hour life rechargeable battery so that mums can pump anytime, anywhere.

The built-in touchscreen technology featuring the memory button and timer makes pumping a super-convenient experience, allowing mums to track and record pumping sessions easily.
Their breast pump mimics the natural sucking pattern of your baby, providing 6 stimulation modes and 9 expression levels for personalized comfort, reducing pressure, and optimizing milk flow.
Find out more here.
Disclosure: For this blog post we were able to gain access to a sample product or service.
To see our full Disclosure Policy please click here.