Top Christmas Advent Calendars 2022
Step into Christmas with a luxury advent calendar for 2022. We've trawled the endless options out there to review some of the very, very best out there for daily indulgence all the way up to Christmas. Looking for drinks calendars, sweet treat calendars or a combination of both? We've it all here in festive spadefuls!
Whisky Exchange 25 Spirits for 25 Days Christmas Advent Calendar (£175)
For all those spirit aficionados, look no further, the Whisky Exchange 25 Spirits calendar is here and it is full to the brim with the absolute must-try drinks of this festive season.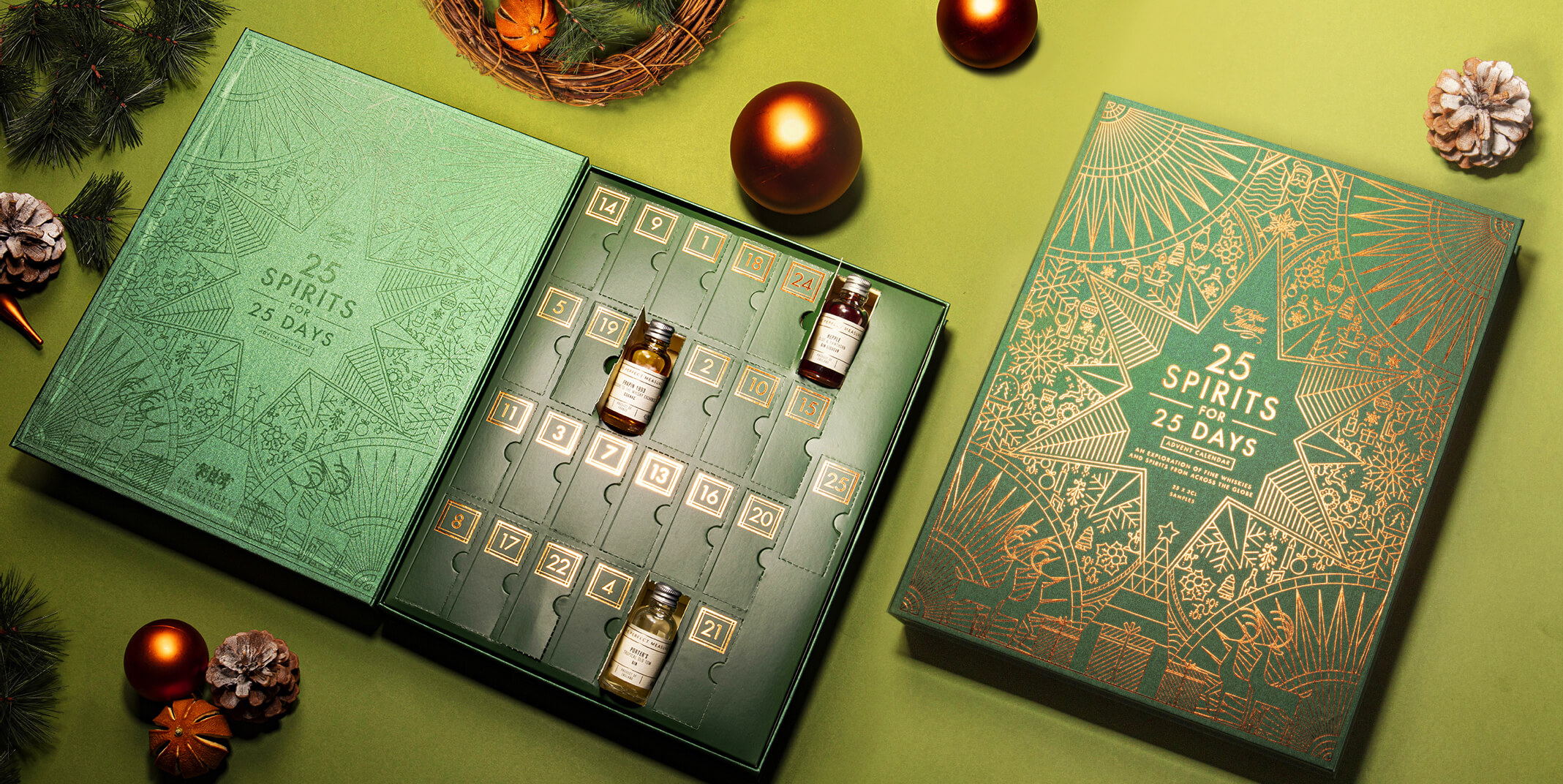 A stunning calendar, ideal for any sideboard, it features 25 doors each hiding a surprise 3cl bottle of spirit guaranteed to make the countdown to Christmas even more magical.
Whether you were a rum fan, whisky fan or anything in between, this calendar provides a prestigious walk through premium spirits you need in your life.
Within you'll find some tipples you will not find anywhere else, such as 30ml bottlings of Frapin 1993 (£150), and Mauritius 2010 Moscatel Cask Rum (£99). Plus, feast your tastebuds on Glenfarclas 25 Year Old (£215) and many festive offerings, such as Saliza Amaretto Liqueur and Clairin Communal Rum.
Available now on thewhiskyexchange.com at £175. This is the must-try calendar of 2022 for drinks fans, it has absolutely every thing you could wish for. Let's hope you are on Santa's nice list and he has one winging its way to you!
Funkin Cocktails Ultimate Cocktail Advent Calendar (£49.99)
Celebrate the festive season in absolute style – behold, the ultimate cocktail advent calendar to get those festive frivolities flowing! This year FUNKIN COCKTAILS is shaking up the festive season with the launch of the first ever nitro-infused cocktail advent calendar. They claim it is just like having your own personal mixologist serving up delicious, bar quality serves every day in the run up to Christmas and, you know what, they are completely right!
Behind each window will be a selection of award-winning nitro cocktails, including the new FUNKIN COCKTAILS Peach on the Beach and classic flavours from FUNKIN COCKTAILS NITRO CAN'S range Passion Fruit Martini, Strawberry Daiquiri, and Pina Colada. Full of freshness, zingy and oh so delicious, Funkin have totally nailed it for 2022. Do not miss out!
Artisan Coffee Co.'s limited edition coffee advent calendars (£Various)
Get your morning coffee fix with an artisan twist! Perfect for any coffee lover, Artisan Coffee. Co. have a selection of superb advent calendars for 2022!
If you fancy super charging your Nespresso machine for the period of advent, try the Pod calendar. Packed full of 24 drawers, each one contains a coffee expression unique to Artisan Coffee Co., including range of signature blends and festive favourites. Not a Nespresso user, try their coffee bag alternative, for a super smooth and highly satisfying coffee hit, every day up to Christmas!
For those who crave a little indulgence, the Ultimate Coffee Pod Calendar, is the perfect option, offering a selection of 50 pods and 50 chocolates. Designed for sharing it is perfect for housemates, couples and even families, perfect for coffee connoisseurs and chocolate lovers alike.
Pick yours here.
Bird & Blend Tea Co. Advent Calendar
Looking for a couples calendar and a way to enjoy that first hot drink of the morning with a special someone throughout Christmas?
The UK's most loved indie tea company, are on a mission to spread happiness and reimagine tea this festive season with the launch of its Advent Calendar and wider Christmas range of products.
Offering double the tea delight, every day offers x2 tea parcels in a taste sensation of flavours; 48 tea bags in total, perfect for sharing with a loved one or couples and the only one of its kind on the market.
There are stunningly unique flavours too and ones perfect for Christmas. Including Christmas flavours like Snowball, Mulled Cider and Cold Weather Warrior as a well a fan faves Morning Kick and Mojitea. Plus, you can expect 100% plastic free & recyclable packaging (and plastic free tea bags!).
Boasting wonderfully festive flavours such as; Gingerbread Chai & Snowball. Plus Bird & Blend's pick of its favourite blends; Cold Weather Warrior, Tea & Toast, Moondrop Dreams & Chocolate Digestive Tea, amongst many more.
The only tea calendar on the market to contain double the delight as each day customers can unlock not 1 but 2 x tea parcels, so that's 48 cups of tea in total! One for you to enjoy and one to share with someone new!
Available for £38 from here.
Smith & Sinclair Advent Calendar (£49.99)
Countdown to Christmas with a festive edible tipple each day. Smith and Sinclair have launched their Naughty or Nice advent, and each day you get an edible delicious cocktail sweet.
Absolutely delicious and a perfect way to indulge the taste buds. Flavours includes Gin & Tonic, Pineapple Bellini, Passionfruit Mojito, Bourbon Old Fashioned, Paloma and many more from their best selling ranges.
£49.99 from SmithandSinclair.com
Lindt GOLD TEDDY Sleigh Advent Calendar (£15)
Lindt chocolate is an absolute fan favourite for any household. Gorgeous! This Christmas, bring home the magic this Christmas with the Lindt TEDDY Sleigh Advent Calendar.
Thanks to their Master Chocolatiers, they have combined their unrivalled expertise with the finest ingredients to create 24 delicious festive chocolate treats hidden behind an adorable 3D Christmas Sleigh. Whether it be a white chocolate Santa, the signature Lindt bear, LINDORs or any of your other favourites, they are likely all featured! Get yours exclusively here.
Montezuma's Butter Nutter calendar (£20.99)
Another powerhouse in the chocolate world, Montezuma's, are offering another stunning calendar for Christmas 2022. The Butter Nutter advent calendar is filled with a mix of indulgent milk and dark chocolate truffles containing Meridian peanut butter.
Delicious!  Rich, creamy and decadent, with a hint of fun and frivolity. Highly recommended and coming in at just over £20 for a steal this Christmas! Buy yours here.
Disclosure: For this blog post we were able to gain access to a sample product or service.
To see our full Disclosure Policy please click here.